TOWARD ACCURATE BLOOD PRESSURE MONITORING AT HOME
 Most important things for the blood pressure monitor for home use are "accuracy" to measure the blood pressure correctly and "ease-of-use" for everyone to operate without failure. Omron's monitor has been highly valued and trusted worldwide for our continual research to improve these points since the beginning of development. We introduce some of the epoch-making models which highly contributed to the accuracy and usability improvment.
Blood Pressure Monitor with Oscillometric Method ( HEM-400C/HEM-700C ) - 1986
This is Omron's first model to adopt the innovative way for the blood pressure measurement; Oscillometric method, which has became a mainstream technology of today's digital blood pressure monitors.
The leading way of blood pressure monitoring was previously Korotkoff method. Blood pressure monitoring by Korotkoff method uses a microphone built in a cuff to catch the Korotkoff sounds in artery. If a microphone is out of position of artery, sometimes Korotkoff sounds could not be heard accurately. Also it was difficult to measure correctly in a loud and noisy environment.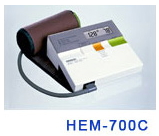 Oscillometric method solved these weak points of Korotkoff and significantly improved the accuracy and usability. Oscillometric method is a measurement to detect the vibration of blood vessel wall by pressure sensor. It does not need a microphone and a cuff that functions as a pressuring sensor has simpler structure, which causes less device failures. Furthermore, there is no worry about the noise in the environment.
The blood pressure monitor with oscillometric method was successfully introduced by Japan Colin, the former Omron Colin, in the medical device field in 1979 for the first time (blood pressure monitoring device with oscillometric method "BP-203"). Although another company took a lead in the genre of blood pressure monitor for home use, Omron caught up with it utilizing its accumulated technologies within a year.
Omron launched Oscillometric method blood pressure monitor (HEM-400C, HEM-700C) in 1985.
In addition, in several years, competitors also launched the same type of
monitors and it became the mainstream of the current electric blood pressure monitors market.
Digital Auto Blood Pressure Monitor with Fuzzy Logic ( HEM-706 ) -1991




Blood Pressure Monitor with Constant-Speed Deflation ( HEM-707 ) - 1992
Both of the models firstly adapted the fuzzy logic in the world and realized optimal inflation and deflation.
Omron launched the company-wide project (Golden Product), aiming to create "one and only" or "number one" products in the marketplace.
Our analysis of issues related to blood pressure monitors and customer needs, targeting for the creation of the monitor with unprecedented and innovative function and usability, led to the development of concept of "Friendly, Quiet, and Fast".
---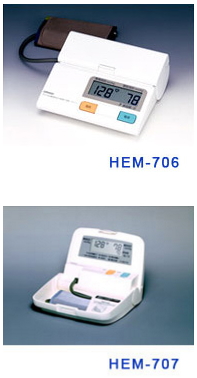 "Friendly"=automatic and optimum inflation
At that time, users had to know their regular blood pressure readings and set up a higher inflation value for measurement. Therefore, insufficient and excess inflation caused the monitoring failures.
To cope with the problems, Omron aimed to develop the device with automatic inflation suitable at each measurement.
"Quiet"=silent inflation
Blood pressure monitor at that time made a loud sound while inflating. Many people worried about the sound during the measurement in the early morning or late at night. We tried to develop the device which can be used anytime without hesitation or worries to disturb family members by making the sound as small as we can.
"Fast" = constant-speed ( Optimal ) deflation control
Users with hypertension or bigger arms felt the pain or irritation during the measurement, because the measurement times usually tended to be long. Therefore, we aimed to develop the technology to measure blood pressure in a short time regardless of the size of arm or blood pressure value.
---
To solve those issues, the development goals were set significantly high and also had to take on many challenges such as the electric control valve and the silent pump to software development including algorithms (microcomputer program) for automatic inflation and deflation control.
 The logic adapted in this development is "fuzzy logic" (see the column below). Adapting this logic which controls and optimizes the complicated elements made it possible to auto-set the optimal inflation and deflation speed control appropriate for each user. Regarding the silent inflation, silent pump was successfully developed by the cooperation of a pump manufacturer, based on the sound technology acquired through the development of blood pressure monitor with Korotkoff method, which led to launch the world's first blood pressure monitor with fuzzy logic, "digital automatic blood pressure monitor with fuzzy logic (HEM-706)". The development took only a year. "Friendly" and "Quiet" among three goals were achieved by this blood pressure monitor.
The technology following the fuzzy logic was "constant-speed (optimal) deflation control" which measures in a short time regularly and appropriately controlling the deflation speed regardless of the size of arms.
The technology was developed by being inspired by the voice coil structure of a speaker of sound system and completed in collaboration with a major sound speaker manufacturer. Also in cooperation with a CPU maker, a new CPU (central processing unit) for the high speed operation of the deflation was developed. Furthermore, the algorism simulation of deflation control was conducted with help from a control engineering laboratory of a university. With many supports from specialized manufacturers, universities, and research institutes, we were able to realize the technology within a year.
All these resulted in the blood pressure monitor with constant-speed deflation control (HEM-707) launched in 1992. Initial goals of "Friendly, Quiet, Fast" were all achieved. We also started the consumer tester system for the precise evaluation of HEM-706 and HEM-707 because those models were the devices with many new technologies. Omron launched the models with confidence after monitoring the data from 100 registered consumer testers and approx. 1000 patients of several hospitals in Kyoto prefecture.
Many users appreciated "one-button usability to measure", and complaints on the "arm pain during measurement" were significantly decreased. Omron's blood pressure monitor for home use dramatically possessed higher reliability, and served as a foundation of today's position of a leading manufacturer.
Fuzzy logic based blood pressure monitors starting from HEM-706/HEM-707 are the standard models of Omron's digital blood pressure monitor today.
Fuzzy Logic and Lotfi Zadeh
Fuzzy logic was set by Lotfi Zadeh, Professor of Communication Engineering at University of California, Barkley. Fuzzy originally means "vague". The logic is to optimally control the complicated system constructed by numerous parameters, which was spread and greatly affected not only scientific but also philosophy and literature fields. Also, the theory was adapted to the control system for washing machines and vacuum cleaners, which became to an issue at that time in Japan. It is adapted to the automatic control system of optimal inflation estimating the optimum pressuring value for each person for Omron's blood pressure monitor. Lotfi Zadeh introduced that the fuzzy logic used for the adjustment of cuff inflation of automatic blood pressure monitor as one of the most contributed examples of its application to human beings in his lectures.
Lotfi Zadeh was born in Azerbaijan in 1921. Graduated from University of Tehran, he moved to the U.S. and taught Communication Engineering at Columbia University and University of California, Barkley. He was prized HONDA PRIZE in 1989, IEEE Prize in 1995, and Benjamin Franklin Medal which is called the Novel prize in the U.S. in 2009.
Blood Pressure Monitor with new ComFit Cuff ( HEM-770A ) - in 2001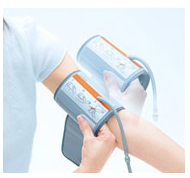 This model is a upper arm device equipped with "ComFit" cuff; a new pre-formed cuff that can be worn easily by anybody.
Home-monitoring of blood pressure is recognized more significant in 2000s, the age of preventive medical care. As blood pressure for home use were being accepted more and more, Omron applied the concept of "universal design" to the new monitor development, in the stand point of usability, and launched HEM-770A in 2001. This pre-formed fit cuff can be worn correctly with one hand, and is easy for elderly people, too. Additionally, a new cuff structure secured the high-pressure capability with narrower cuff width. Therefore, people with shorter arms can also place the cuff easily.
Wrist Blood Pressure Monitor with Avanced Positioning Sensor ( HEM-637IT ) in 2002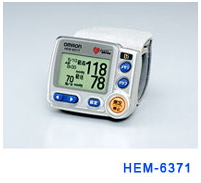 It is a simple model of wrist measuring and Japan's first blood pressure monitor with the advanced positioning sensor of heart level.
Home monitoring became popular by the monitor with fuzzy logic, and Omron also actively tried to develop several blood pressure monitors according to customers'needs. One of the developments is wrist blood pressure monitor. Wrist blood pressure monitor is easy to wear compared to the upper arm model and is portable because of its lightness, which takes up 30% of the market of blood pressure monitor for home use in Japan today.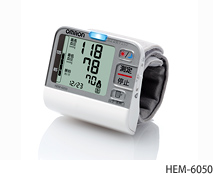 Since the development of first wrist blood pressure monitor in 1992, Omron keep improving the device. However, development race among competitive companies had started in late 1990s. At that time, Omron challenged to minimize the device as small as a wrist watch, and developed the compact model with the brand-new internal pump, control valve, and cuff. The result is world's smallest "compact wrist blood pressure monitor (HEM-630)" launched in 2000.
For this development, Omron took the number one share of industry in the genre of wrist blood pressure monitor. The technologies acquired at that time were utilized for many of later models such as easy Comfit cuff.
Meanwhile, sometimes an error occurs because of the height of wrist during the measurement. The height of arm or wrist and heart level should be same to measure blood pressure correctly. It cannot be measured accurately either when the position is too high or too low.
The model dealt with those errors is Japan's first Wrist Blood Pressure Monitor with Advanced Positioning Sensor (HEM-637IT) launched in 2002.
Advanced Positioning Sensor announces the position by its screen and buzzer to keep a wrist right posture; the height of heart level.
Two built-in sensors (sensors of reading directions by gravity) detect the height difference of the heart and vertical height of monitor, and automatically start measuring when the position becomes correct, which made it possible to measure as accurately as upper-arm model.
World's First Model with Full Automatic Cuff Wrapping System ( HEM-1000 ) - in 2004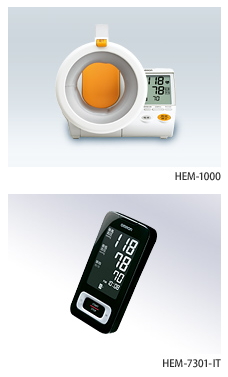 A user can measure in a correct posture by simply placing the arm into the device.
Omron started adapting the universal design concept since 2003 in high gear. We reviewed the purchase criteria or actual usage by the follow-up surveys of people who bought Omron monitors. The results of the review were reflected into the colors or features of devices, and also the ideas of "wide display for easy view", "single button for power and inflation to prevent improper push" and so on.

We carried out the usability monitoring of blood pressure monitor with the cooperation from elderly people and physically-challenged people in welfare facilities and others. Furthermore, we have co-worked on the inclusive design (product development to ensure the mainstream products and services are accessible to any person) with Kyoto University.

One of the results is our original "blood pressure monitor with full automatic cuff wrapping system (HEM-1000)" launched in 2004. This model automatically inflates and help take a correct posture by simply placing the arm into the device.
The project on universal design drew attention from overseas and received universal design awards of Germany.
Downsized and Lightened Model (HEM-7301-IT) launched in 2008 is one of those products too. The stylish design which is unlike that of conventional blood pressure monitors and the compact form which is easy to carry to workplaces and travel are the achievements of Omron's technologies and design.
The concept of Omron's universal design is expressed in the phrase "shaped for people", the tile of leaflet published in 2008. Shaped for people means the products are formed by the desire to care for people, which is common to all healthcare devices of Omron.