HISTORY OF OMRON'S BLOOD PRESSURE MONITOR
In pursuit of "accuracy" and "ease of use"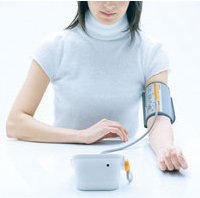 The innovation of Omron's blood pressure monitor was started with the concept of "Health Engineering" in the beginning of 1960s.
"Health Engineering" is the idea of the founder of Omron Corporation, Kazuma Tateisi, who was inspired by the system of the latest automation factory at that time. The concept is to compare the control and communication systems of human body to those of machines and manage a person's health condition and diagnose diseases by using a combination of automation and computer technologies.
The research based on his unique logic was started at the central R&D laboratory in 1961. Since then, Omron has been working consistently on the development of blood pressure monitor for home use with the policy to contribute to healthcare through the diagnosis technologies with the corporate policy of "working for the benefit of the society".
Omron's first digital blood pressure monitor, "manometer-typed manual blood pressure monitor (HEM-1)" , was released in 1973, and "digital blood pressure monitor for home use (HEM-77)" was developed in 1978, the year of establishment of Japan Hypertension Society.
We have been challenging ourselves to develop numbers of blood pressure monitors for home use adapting the forefront bio-information sensing technology and the usability concept of the time: "blood pressure monitor with oscillometric method (HEM-400C/HEM-700C)" which is adapted the innovative oscillometric method in 1985, "digital auto blood pressure monitor with fuzzy logic (HEM-706)" which is the world's first fuzzy logic-based model in 1991, and "a model with full automatic cuff wrapping system (HEM-1000)" adapted universal design concept in 2004.
Omron's blood pressure monitors for home use have been highly trusted not only in Japan but also worldwide as a result of our pursuit of product's "accuracy" and "ease of use" as the global share No.1 manufacturer. Let us introduce the history of development of our blood pressure monitors along with the historical surroundings of the hypertension treatment in the chronological table.
---
Chronological Table of Blood Pressure Monitoring
---